Create Songs, link videos, add lyrics and media, and stay connected through messaging
Having trouble keeping your Praise & Worship Material Organized? Whether you're a Music Director or a praise team member, It's tough keeping all song-related material organized. We're here to help! Introducing CampusHead - praise and worship app. Create Songs, link videos, add lyrics and media, and stay connected through messaging. Stop wasting time scrolling through cluttered spreadsheets and bloated applications. Organize your Praise & Worship Material with the CampusHead App.Here you will get the best song maker app. Download the app today!s
CampusHead makes life easier
It's never been easier to find a song. But it's always been difficult to organize all of the songs you have, and then plan out the order in which they should be song. CampusHead solves this problem by providing musicians & singers with an app to find musicians that organizes their entire library of songs, keeps important notes about those songs, and helps keeps everyone on the same page.
Use your android or ios device to manage everything.
One convenient app to manage and organize song material for any size team. Check it out on the Apple Store and Google Play store. Best apps for musicians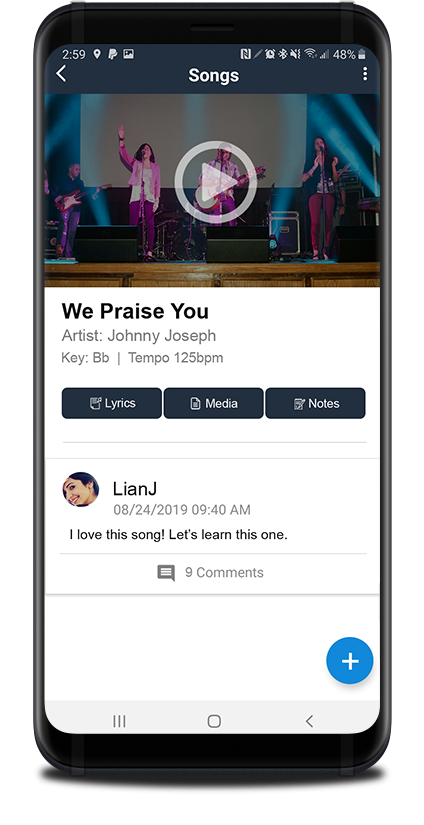 My calendar is a feature that will allow you to track all upcoming events, create a list of events or tasks for each day. You can either create a new event or search events by typing the name of the event. Events show up on a monthly calendar, and you have the option to scroll through all previous events with one button click. I can also mark them as done or move events to a different day
Join your team feature allows for an easy and quick way to add singers, friends and church members. With the teams feature, you can also assign singers, so that everyone has a clear idea of what they are singing. We have the teams feature to allow you to organize your singers and vocalists for specific songs or songs' parts.
The feature allows you add new songs, delete old ones or move them to different lists. Our app is designed to be simple and intuiative. With this feature, you can: ⦁ Add a song from YouTube or add one of your own. ⦁ Search for Praise and Worship songs by song name, artist or lyrics. ⦁ Create lyrics and chords with chord diagrams and notation
Copyright © 2021 All rights reserved | CampusHead